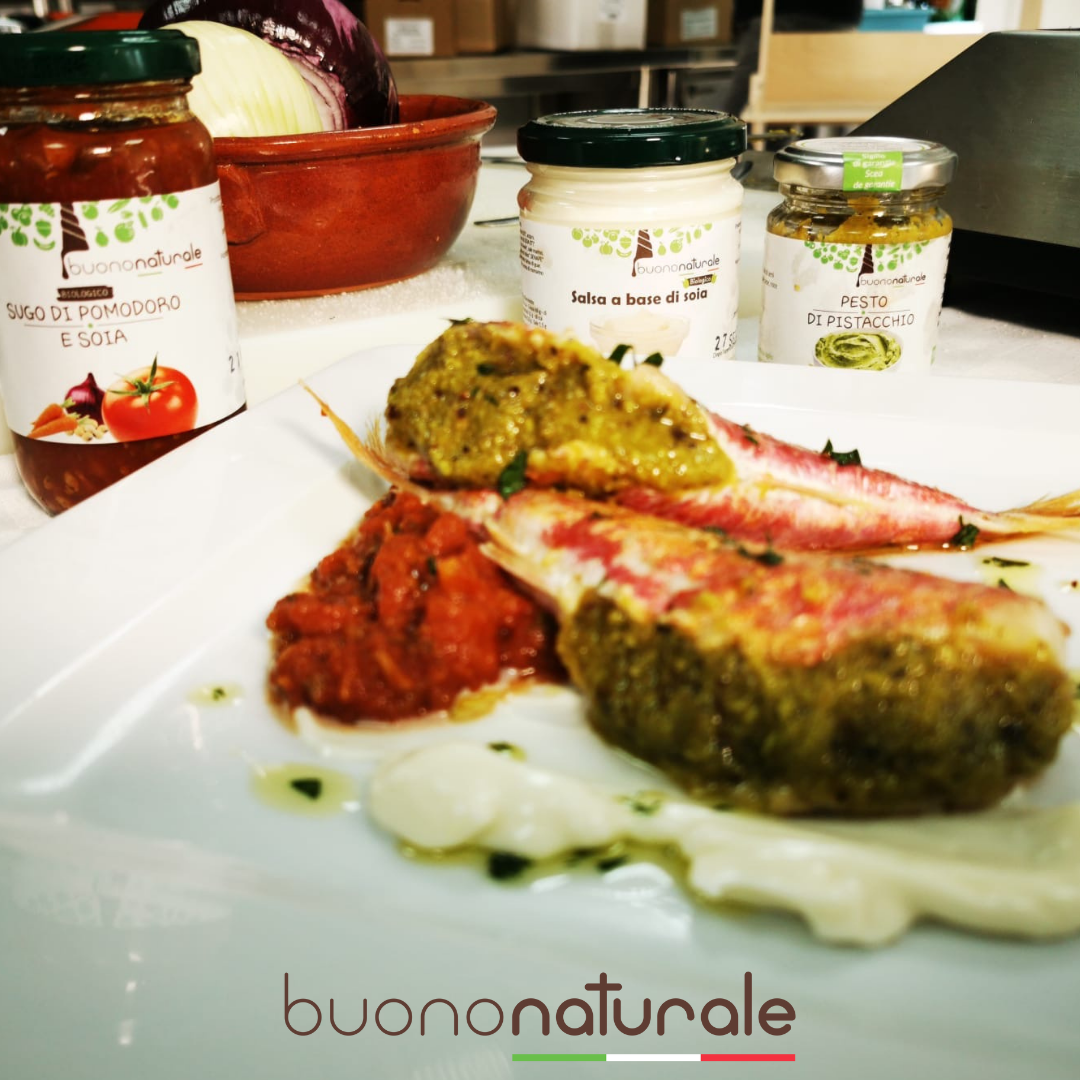 ---
buononaturale's alternative tomato sauces, exquisitely vegan, are now also available in Singapore. Seek them out!
Under the guidance of Chef Vincenzo Squarciafico, this episode is meant to show you (culinary) tricks to customize century-old hearty recipes from across the Italian peninsula to modern needs: speed, simplicity, quality, aesthetics. In other words, be ready to savor the Italian Dolce Vita without renouncing other aspects of your life.
Today's masterpiece: Pan-fried thyme-scented red mullet garnished with tomatoes and soya sprouts.
***
INGREDIENTS for 2 portions:
buononaturale Tomato sauce with soia;

buononaturale Pistachio pesto;

buononaturale Soy mayonnaise;

2 whole small red mullets;

1 small bunch of fresh parsley and thyme;

1 clove of fresh garlic;

Extra-virgin olive oil, sunflower oil, salt, and black pepper to taste.
***
PROCEDURE:
Chop fresh parsley leaves and put them in a small bowl;
Add olive oil and pepper and mix everything;
Fillet the red mullets and add salt;
Add olive oil and a crushed garlic clove to a pan;
Sauté at low temperature in another pan the buononaturale Tomato sauce with soia and leave it to thicken for 10 minutes;
Cook the red mullet fillets for 6 minutes;
Aromatize the fillets with rosemary or fresh thyme;
Plate up starting with the buononaturale Tomato sauce with soia;
Remove your fillets from the pan and lay them over absorbent paper;
Decorate with the buononaturale Soy mayonnaise;
Add the buononaturale Pistachio pesto to the fleshy inside of the red mullet fillets;
Finish up with some fresh parsley in olive oil.
Buon Appetito!
---