---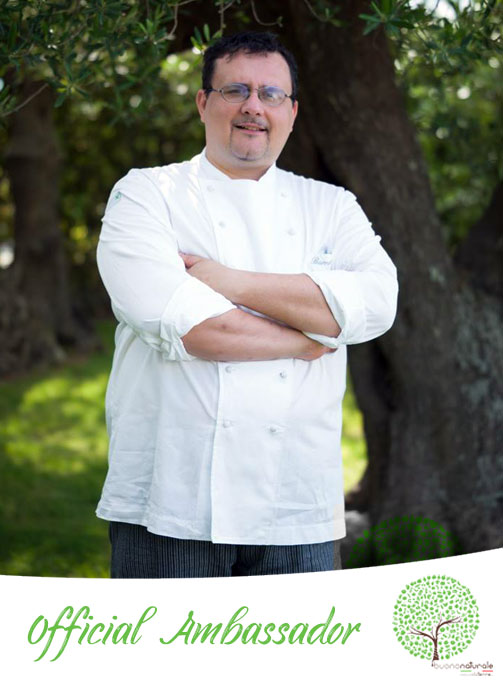 With the start of EquipHotel Paris in the Espace T by Transgourmet | Salon EquipHotel Paris 2018 Buono Naturale announces that from today has a new face, a new voice and new hands that join the project.
This is Paolo Barrale, a Sicilian chef in the Irpina area; Paolo represents Mediterranean cuisine with his instinct, experience, sensitivity and "his" technical background. All this gives its kitchen balance and depth.
This is why it will become AMBASSADOR di Buono Naturale and will work with us to research and define the products with the best organoleptic properties
Only in 2018 he received 1 Michelin star, 2 Gambero Rosso forks and 2 Espresso hats.
These are the words of the chef at the beginning of this adventure of sharing and research:
"It is an honor for me to announce that as of today I will join the Nouvelle Terre team to take care of the Good Natural line together.
I chose to become an Ambassador of this reality because I have reviewed in the project the reasons that have always pushed me to do better and the meticulous dedication to the product to offer the consumer always higher quality.
First of all the sacred respect for raw materials: it is necessary that they speak the language of their territory, that they tell through the quality and taste from where they come from and their heritage made up of ancient traditions and recipes. This particular attention I met again in the Good Natural products, which spoke to me of the best traditions of the Italian regions.
Another feature that I share with Buono Naturale is farsightedness in topics such as environmental respect. Embracing the "natural" today is no longer a choice, but a necessity. Producing and using products from organic farming is the pact of responsibility that we make with the future of the planet. Besides the guarantee of a higher quality we choose to leave to those who will come after us a land free from the bad eating habits of the past, a lower rate of pollution and a greater awareness of how the habits of the individual can make a difference for the community.
Third, curiosity and creativity. Choosing a product, inventing a dish, preparing a dish with products that have a well-established history requires a fair amount of these two elements. To be creative you need to be curious and vice versa.
At Casa Buono Naturale I found all this and much more: care, passion, attention, research and dedication.
When the question is healthy eating, the answer is Good Natural! "
---