Orange and Coffee-Flavored Spelt With Pumpkin.
Difficult:

Normal

Preparation:

30 min

Doses for:

4 persone
By chef Paolo Barrale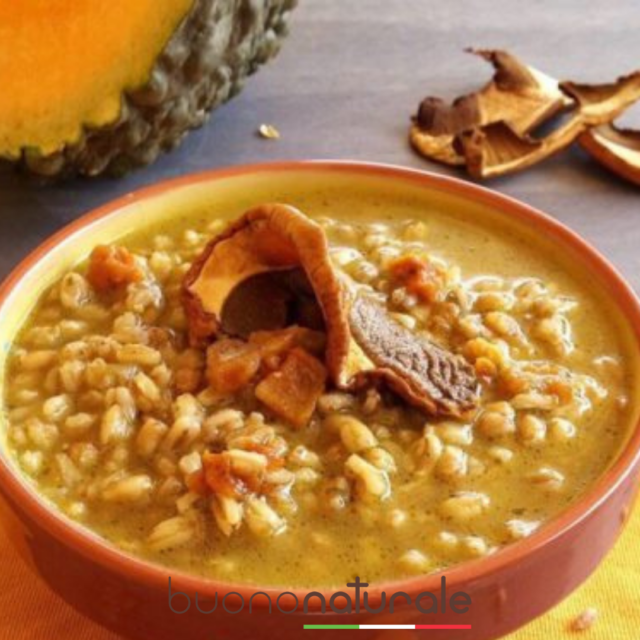 INGREDIENTS FOR 4 PORTIONS:
250g of buononaturale Spelt with pumpkin
50g of Parmigiano Reggiano
100g of butter
1 orange
10g of roasted coffee powder
***
OUR MAIN INGREDIENT:
buononaturale Spelt with pumkin
Spelt is a fiber-rich cereal with exceptional nutritional properties. It helps control blood sugar levels and contributes in other ways to the health of the heart.
Here are four curious facts about spelt:
It was named after a popular cereal in Ancient Rome, where it was used mainly for bread making;
It is rich in vitamin E, which is famous for its antioxidant properties;
It provides good doses of iron and calcium;
It is one of the least caloric types of wheat and contains the essential amino acid methionine, which is absent from almost all other cereals.
***
OUR PROCEDURE:
Grate the orange peel;
Squeeze the juice, strain and reduce it to a third of its original volume;
Toast the buononaturale Spelt with pumpkin with 25g of butter and pour glass of white wine over it;
Continue cooking by pouring about 800g of boiling water;
When cooked, turn off the heat and stir in the butter, parmesan, and the orange reduction;
Gently pour into your plates;
Sprinkle with a little ground coffee and fresh orange peel.
Enjoy your meal!
#quickrecipe #artisanalitalianspecialties #ready-to-cookorganicfood #eatingorganicathome #healthyeating #instantspelt #organicspeltwithpumpkin